Join Dr. Katherine Ortega Courtney and Dominic Cappello, co-developers of the 100% New Mexico Initiative and co-authors of Anna, Age Eight and 100% Community for insights and action steps.
Become inspired and engaged. On this page you'll find our webinars and podcasts. As new dates for future webinars are announced, we will post them here and on our calendar. Our podcasts are available to listen directly from this website or by using the subscription link in your favorite podcast player.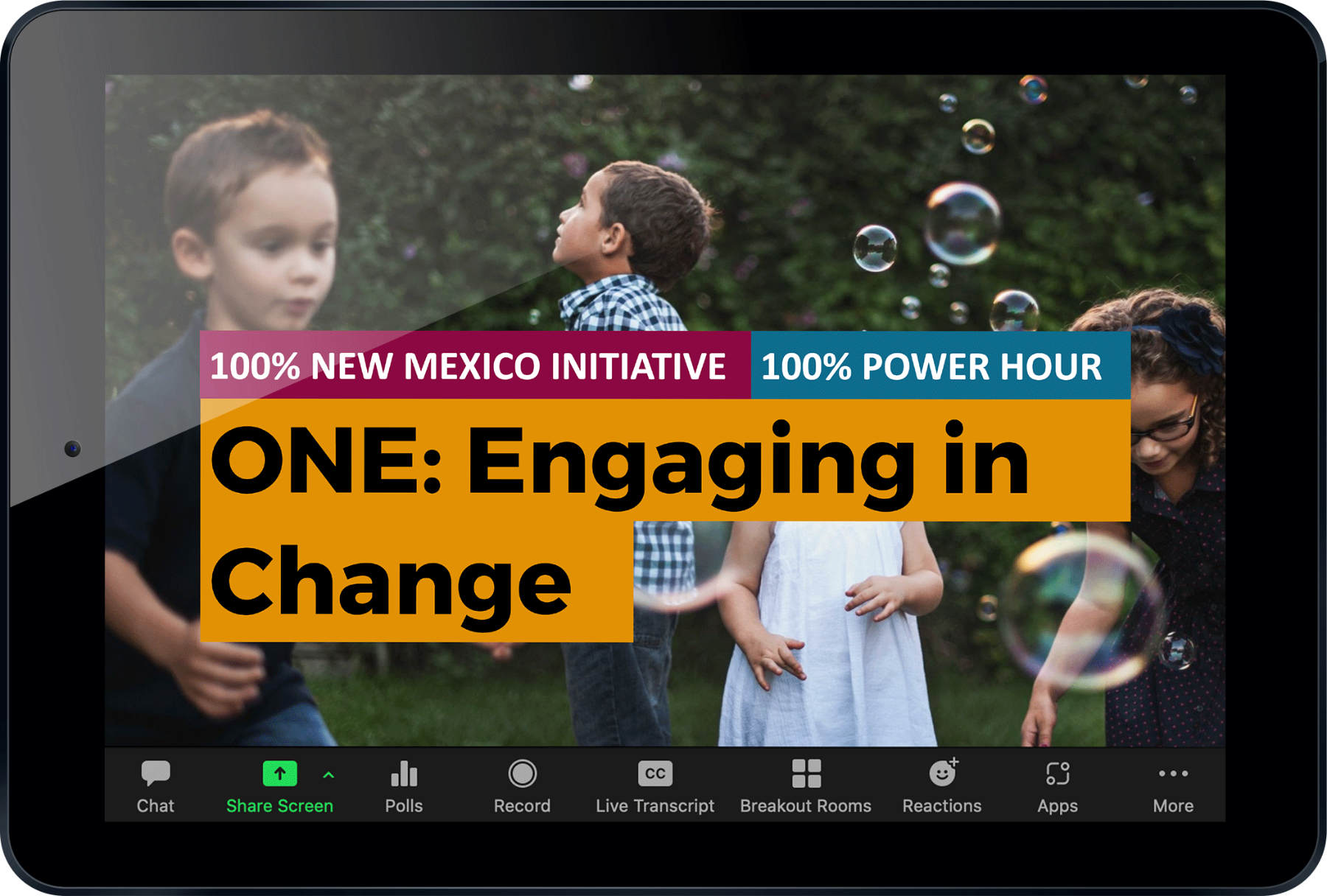 POWER HOURS
Join the 100% Power Hours with Dr. Katherine Ortega Courtney and Dominic Cappello, co-directors of the Anna, Age Eight Institute and co-authors of 100% Community, Anna, Age Eight, and David, Age 14. The 100% Power Hours guide all community stakeholders and 100% New Mexico participants through the initiative's county-based collaborative process during our webinar series provided throughout the year.
Don't miss the next one!
Get on our notification list and to find out when to reserve your seat before they are all gone.
100% KEY CONCEPTS GUIDE
We are pleased to share the twenty concepts that are the foundation of the 100% New Mexico initiative work in each county in our first podcast release.
We think of it this way. Imagine your new house is being built on a foundation of twenty large wooden beams. You cannot afford to have one break. It's the same way with the following twenty concepts, each one plays a critical role in the building of a local 100% New Mexico initiative to ensure that 100% of residents have access to the ten vital services for surviving and thriving.
…And while you're listening, grab a seat!
We offer so many ways to learn about the 100% New Mexico initiative. The quickest and easiest way is to enroll in one of our self-paced course. Learn more below.
Our transformational 100% New Mexico initiative is guided by web-based, self-paced courses provided free to all New Mexicans. If you are outside of New Mexico and are interested in learning more about the initiative or taking our courses, please contact us for more information. Whatever your familiarity with the 100% New Mexico initiative or your interest in participating, we have a course that is the perfect fit for you. Explore our courses while connecting to other local champions.
A Child's Right to Survive and Thrive Course
You can ensure safe childhoods. In this groundbreaking course, initiative co-developers Dr. Katherine Ortega Courtney and Dominic Cappello, authors of Anna, Age Eight and 100% Community, introduce you to "Anna's story" and the strategies to ensure 100% of children, students, and families can thrive.
100% Initiative Leaders & Action Team Courses
Turn caring into action! If you're on or joining a local action team, these courses provide you with an overview of the local initiative and how to make measurable and meaningful change across all communities building one-stop service hubs, community schools, and other technology-empowered, innovative strategies.