NEW MEXICO
100% Community Schools
Explore the community school model that increases academic achievement and serves as one-stop hub to link students and families to ten vital services for surviving and thriving
This page provides residents with an overview of the 100% Community School, a tested strategy to fully-resource schools with student supports, parent resources and a school-based health centers with medical and mental health care.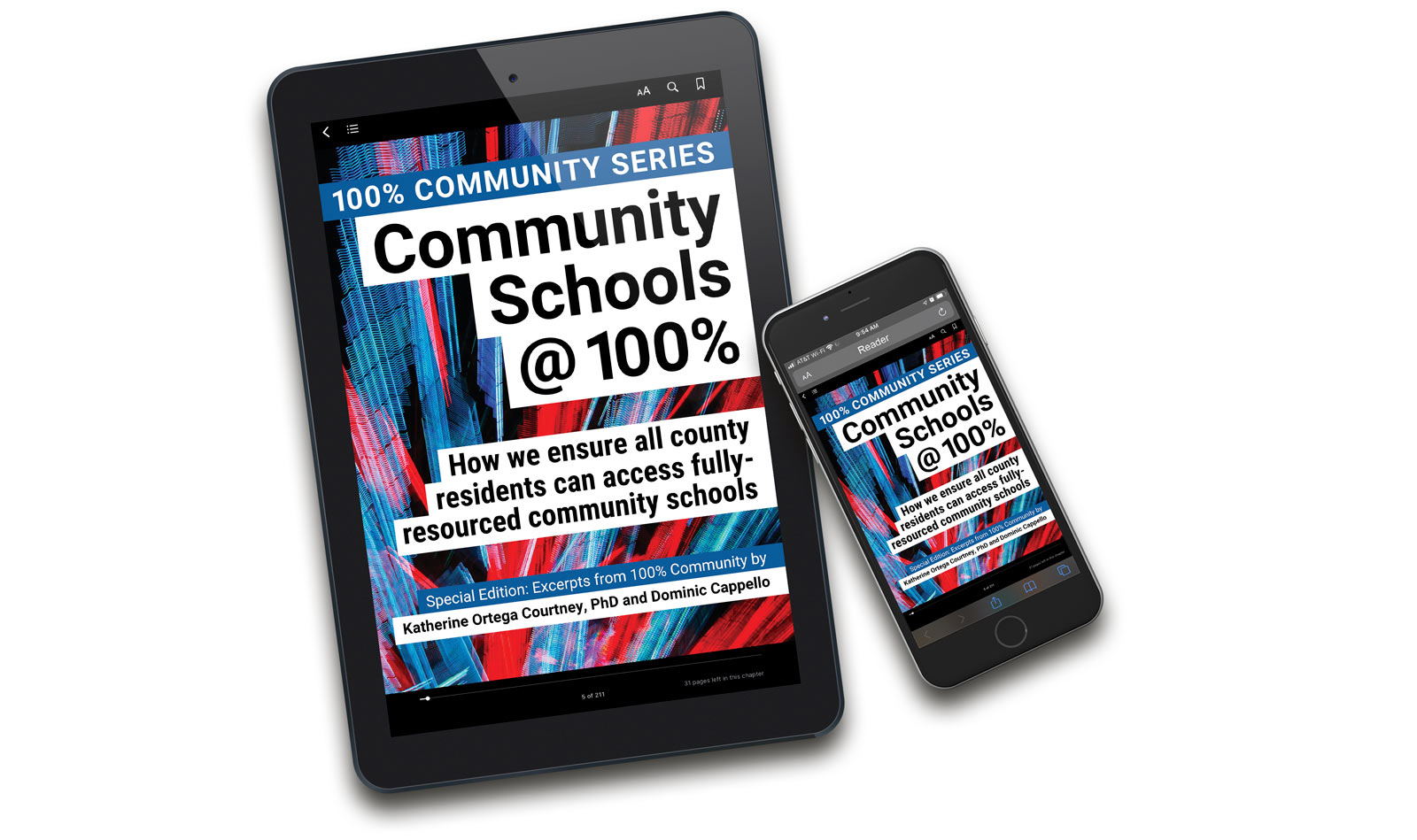 Until we invest in community and school-based services to prevent childhood abuse, neglect and trauma, our students will fail to achieve their full potential in school.
First grader David usually arrives to school hungry, unable to focus. Third grader Sara is often listless at school due to staying up late to console her depressed mother. Fifth grader Eric sits dazed in class, still in pain from a beating the night before by his stepdad. Seventh grader Amy's mom is exhausted working two jobs and doesn't have the bandwidth to help with homework or the finances to address her daughter's behavioral health challenges.
Much is written about New Mexico's opportunity gaps and achievement gaps, along with data on low math and reading scores and graduation rates and college enrollment rates. While much can be done to address academic and cultural challenges through traditional education processes, unless we help each school address adverse childhood experiences, trauma and social adversity, students will continue to fall behind. We know students enter school having endured abuse, neglect and trauma with parents who struggle with substance use disorders, domestic violence and lack of job readiness.
We applaud those educators and academic institutions seeking to address historical challenges with student's academic success. To that end, we propose a vital component to any school reform work which focuses on addressing all the root causes of student's failure to thrive in school. We boldly propose that each school be fully-resourced to become a community school with a school-based health center.
Students will have the best opportunity to thrive in school only if they can thrive in their families and community, which means partnerships between the sectors of education, medical care, behavioral health care, food security, housing security, transportation, parent supports, early childhood learning, mentorship and job training. The community school model was designed to link all these service sectors, transforming schools into student and family empowerment and service hubs.
A TESTED MODEL FOR STUDENT EMPOWERMENT
The 100% Community Schools Project is part of the county-wide 100% New Mexico initiative. The initiative is a county-focused capacity-building process, headed by local stakeholders who are identifying barriers to vital services and working to ensure easy and timely access for all students and their family members.
The community school model is one that can change an under-resourced school into a fully-resourced learning environment with all the services to address adverse childhood experiences (ACEs) and social adversity. The community school model has decades of research to support its implementation.
There are a number of models that guide the development and functioning of a community school. One model, promoted by the initiative as the 100% Community School, has five components:
A full-time community schools director
A school-based health center with medical, dental and mental health care
Staff trained as navigators to link students and families to vital services
Resourced with sustainable funding to be an academic and community activity center
Students and families engaged in service learning and social engagement
We include school-based health care centers, fully-staffed with medical and mental health care providers, in our 100% Community Schools model because of epidemic rates of adverse childhood experiences among our student population. The health centers also serve as a vital resource during a public health crisis.
FULLY RESOURCED SCHOOLS FOR STUDENT SUPPORT
As the community schools remove barriers to vital services, the entire school community is empowered. Students get the support they need to achieve academically. Educators can focus on teaching and learning, while local providers meet health and safety needs. Local providers get a base from which to connect with students and family members, linking them to the services they can benefit from.
Community schools have an environment for family members — a hub.
A space for parent support, workshops and networking
An environment for the school community members to connect
Staff to link family members to vital services for surviving and thriving
A food bank to address food insecurity with student's families
A community school creates a space within the school that says to students, parents, caregivers and the entire school community, "Welcome. How might we help you?"
Community schools acknowledge the digital divide and ensure access for parents to the internet for:
Web-based services
Academic support
Public health information
The return on investment in the 100% Community School model arrives in the form of successful students and self-sufficient families that feel a sense of empowerment and care within the community school. We can see, from decades of research focused on the social determinants of health, that by investing in vital services we improve the health, safety and economic outcomes of all students and parents.
Community schools are part of local economic development. We can see how investing in the model gives each county the best opportunity to support job-readiness and a productive workforce. 
Community schools go upstream, preventing challenges before they start. There is no easier place for students and their families to access services than the school. With robust services supporting a healthy learning environment, our community schools have a vital role in public health, public education and economic development.
Funding formulas exist for community schools. There are as many funding formulas as there are community schools. The community schools director, working with school, district, city and county leadership, identifies and secures sustainable funding. The private sector can also be engaged to support various elements of a community school.
LEARN MORE
The community school model is part of the 100% New Mexico initiative "Framework for Change" guiding county-based efforts. The 100% Community Schools Action Team can be a partner in guiding the development of the 100% Community School, working in partnership with the local school community. A community school model can be designed and funded with a shared vision, goals, and shared understanding of data use, communication strategies, interrelated activities and partnerships with local government. Please contact us to learn more about transforming schools into fully-resourced 100% Community Schools.
Was this article helpful?