VALENCIA COUNTY, NEW MEXICO
Spotlight on Valencia
So, how are we doing? What are all the costly health, education and economic challenges our residents endure?
This page provides Valencia County residents with the information and resources to identify the biggest challenges facing residents, including child abuse, substance use disorders, mental health challenges, housing and food insecurity, and workforce issues.
WE START WITH QUESTIONS
How are we, as a collection of communities within a county, doing? The first step in the 100% Valencia model is assessment. We assess our residents' access to services, barriers to help, and their overall health and safety. In order to have a clear idea of how our residents are doing, we use public health data to identify challenges. On this page you will find data that reflect the health status of your county. As you read the reports many questions emerge.
How might ACEs and trauma impact the overall health of children, youth and adults?
How might trauma lead to substance use disorders which lead to illness, injury and fatalities?
Are there specific populations or communities within the county's border that appear to suffer the most from health challenges?
How might trauma impact our residents' capacity to learn, be job ready and perform well in the workforce?
The following five slide shows provide an overview of health challenges endured by Valencia County residents. They include:
Slideshow 1: Emotional Challenges
Youth with persistent feelings of sadness and hopelessness
Adult mental distress
Suicide death
Slide show 2: Substance Use Disorders
Alcohol-related chronic disease death
Alcohol-related deaths
Alcohol-related injury deaths
Deaths due to drug overdose
Slideshow 3: Violence and adversity
Child abuse victims
Youth history of forced sex (sexual assault)
ACEs and Rurality 
Slideshow 4: Economic Challenges 
Teen birth rate for girls age 15-19 by gender
Percentage of children under 18 living in poverty
Percentage unemployed
Unstable housing/homeless
Slideshow 5: Food Issues
Food insecurity rate
Obesity among adults
Obesity among adolescents
SLIDESHOW 1: EMOTIONAL CHALLENGES
High rates of ACEs and childhood trauma, can lead to mental health challenges, many of which are untreated. You can explore the data on youth struggles with emotional challenges as well as adult mental distress. Any conversation about ACEs should explore the correlation between ACEs-related trauma and mental health challenges. Any coalitions working to prevent suicide would benefit greatly from engaging in comprehensive ACEs prevention strategies.
Slideshow 2: SUBSTANCE USE DISORDERS
Self-medication, through alcohol, prescription drugs or other substances, is a complex behavior that can include the process of numbing persistent feelings of trauma, often a result of ACEs. Substance use disorders also result in financial costs to local government as substance use disorder-related illness, injury and fatality comes with the price that can be calculated as: years of focused school life lost, years of productive wage-earning and tax-paying work life lost, and finally years of life lost. For those working in organizations dedicated to preventing and treating substance use disorders and their related family and community challenges, preventing ACEs will be invaluable in achieving results. The New Mexico Department of Health provides a substance use epidemiology profile.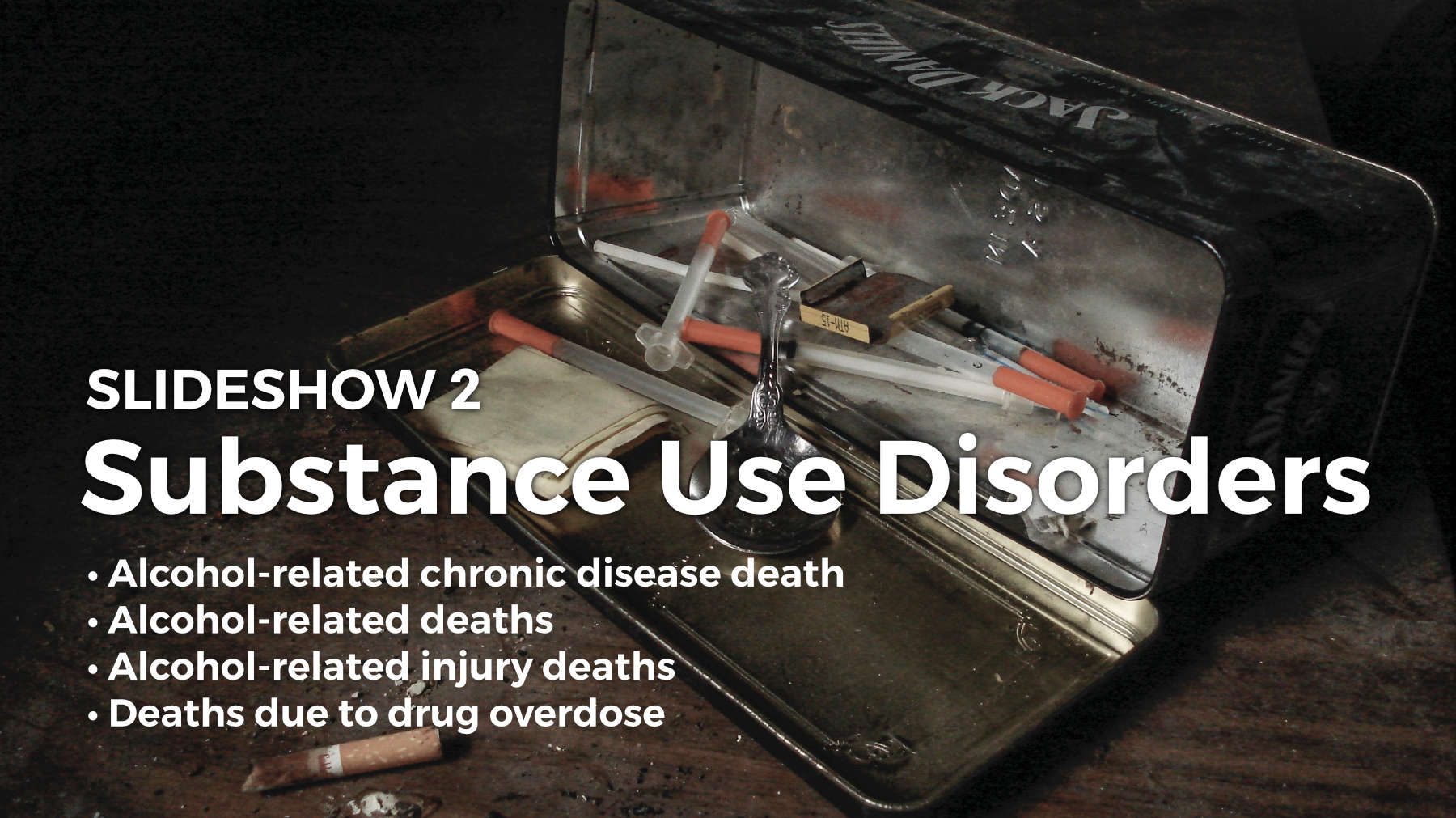 SLIDESHOW 3: VIOLENCE AND ADVERSITY
Child Abuse Victims
The county data illustrating various forms of abuse and neglect documents the tip of the iceberg. What you are seeing are those children whose cases were screened in by the child protective services abuse hotline and were then sent to the county office to be substantiated by an investigator. What these data don't tell you is what happened to calls that were screened out, many representing families in crisis without resources to find help. Child maltreatment represents not only an extreme hardship for children and families, but an economic burden on taxpayers.
SEXUAL ASSAULT
Sexual abuse is one of the ten ACEs. Data that captures the local incidence of sexual assault and forced sexual activity. The long-term impact of sexual violence on school and work performance, suicide ideation, suicide risk, mental health challenges, and substance use disorders has been well documented.
ACES AND RURALITY
Most of our families live in or near rural areas. This article provides a starting point for dialogue about the unique qualities of family life and community support in rural New Mexico.
Rural-Urban Differences in Adverse Childhood Experiences Across a National Sample of Children
Conclusions: Our findings suggest that poverty is a key policy lever that may mitigate the burden of ACE exposure. The findings of this study may be instructive for policymakers and program planners as they develop interventions to stop, reduce, or mitigate ACE exposure and the long-term impact of ACEs among children in rural America.
SLIDESHOW 4: ECONOMIC ADVERSITY
TEEN PARENTS
Ideally, our infants are brought into the world by parents and extended families with the economic resources and emotional stability to raise children in safe households. Our adverse childhood experiences and child maltreatment rates tell us this is not always so.
Work focused on teen pregnancy prevention and helping youth making healthy choices is part of a well-resourced community. County stakeholders also have the capacity to support teen parents and their children by ensuring access to ten vital services for surviving and thriving. 
CHILDREN LIVING IN POVERTY
Poverty dooms many to lives of adversity, trauma, and the type of hopelessness that leads people to substance use disorders. Decades of research focused on the social determinants of health illustrate how under-resourced communities can diminish a person's capacity to thrive in the home, learn in school, become job ready and find steady employment. 
Children living in poverty is a local challenge that can result from a parent's inability to find, secure and maintain jobs with living wages and benefits. Many factors impact finding employment, some that are not the responsibility of residents. During economic disruptions, employment may be near impossible to find locally, especially in rural areas.
HOUSING INSECURITY AND HOMELESSNESS
Homelessness and housing insecurity are two of our nation's most unaddressed challenges.  Any conversation about creating a countywide model for housing security must also address substance misuse, untreated mental health challenges, PTSD with veterans, homeless youth enduring ACEs and escaping unsafe households, and an unstable economic environment and pandemic that causes jobs to come, go and completely disappear.
UNEMPLOYMENT
Local workforce development strategies will benefit greatly by going upstream to address ACEs before they impact the capacity of the future workforce. In addition, problems associated with absenteeism and showing up unprepared to work are significant challenges when building a strong local workforce.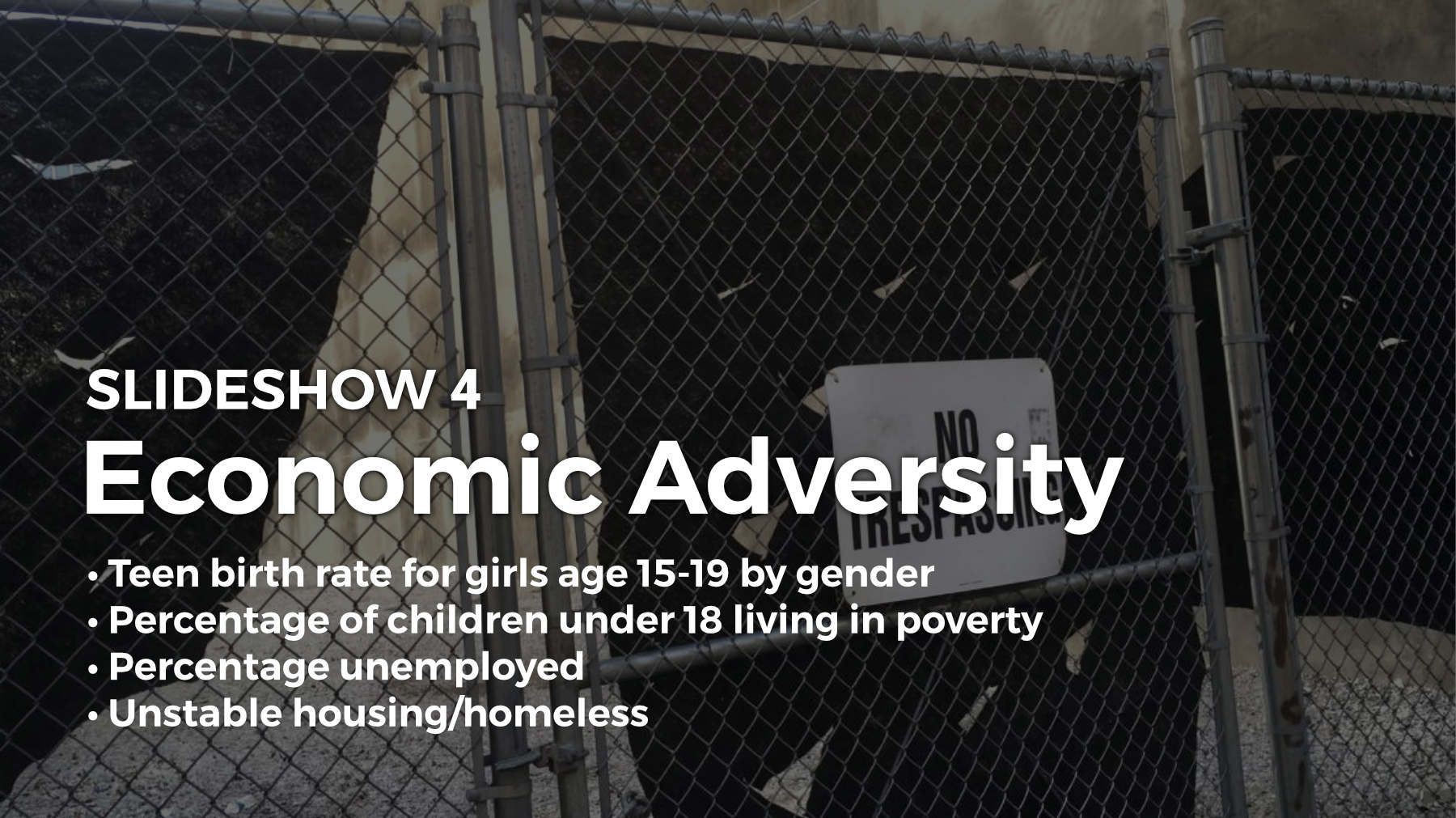 SLIDESHOW 5: FOOD ISSUES
FOOD INSECURITY AND HUNGER
Hunger should not exist in a country as wealthy as the United States, yet data reveal ongoing need, only exacerbated by the pandemic and workforce and economic disruptions. Lacking food is associated with one of the ten ACEs.
OBESITY AND ACCESS TO HEALTHY FOODS
Obesity has long been identified as a public health challenge, impacting overall health and leading to illness, injury and years of life lost. Advocates for health, nutrition, and healthy food access will benefit greatly from insights on ACEs, weight and physical and emotional health.
BY ENSURING VITAL SERVICES WE ADDRESS ALL HEALTH CHALLENGES
For decades, communities have attempted to address these problems separately, with different programs, working apart. Instead, the 100% New Mexico initiative brings all providers to one table to work in alignment with one shared goal: Everyone can access the services to survive and thrive.
ENDING SOCIAL ADVERSITY
By working together, all county stakeholders can address social adversity that contributes to poor health and education outcomes. The 100% Valencia initiative brings together under one umbrella all the providers and educators who provide the ten vital services for surviving and thriving. With collaboration, technology and the goal of alignment of services, we are committed to designing and implementing a seamless countywide system of health, safety and resilience.
TURNING DATA INTO SOLUTIONS
The data provided on this page provide all residents with an overview of key challenges that impact health, safety, education, job readiness and employment. For each problem exists a solution, provided by the work of 100% Valencia, working in alignment with all existing efforts led by city, county and state entities.