MORA COUNTY, NEW MEXICO
Framework for Change
We are engaged in finally solving the unsolvable: creating change on a countywide level to ensure 100% thrive.
This page provides county residents with an overview of the framework for change, from identifying challenges and engagement to achieving results and outcomes.
HOW CHANGE CAN HAPPEN
The 100% New Mexico is guided by a framework for change. We illustrate this process to provide all initiative members with a shared understanding of the process of change on the county level. Our goal is clear: 100% of our county's families have timely access to the ten vital services for surviving and thriving in order to be healthy, safe, resilient and self-sufficient.
100% New Mexico initiative Framework for Change
[A] CHALLENGE: We begin with our 100% New Mexico county-wide survey of parents and youth to identify local challenges and barriers to vital services.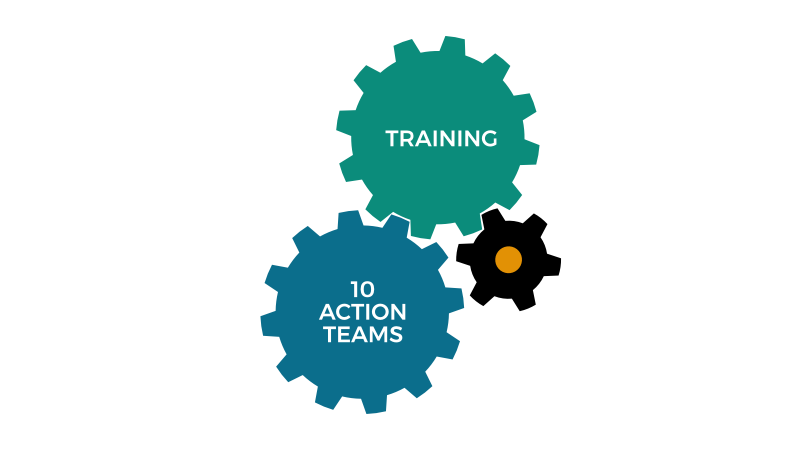 [B] TEAM: Local champions then mobilize and create a local team, including a variety of task forces and ten action teams. Training builds the capacity of each initiative member.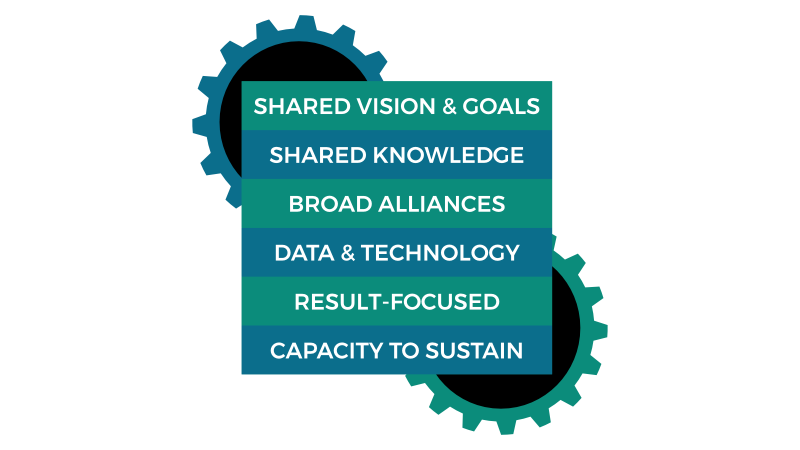 [C] KEY ELEMENTS: The local initiative commits to a shared vision and other components of the Collective Impact framework.
[D] PROCESS: Each of the ten action teams (each one focused on removing barriers to one of the ten vital services for surviving and thriving) begins a process of continuous quality improvement (CQI). In this data-driven process, action teams identify the evidence-informed strategies/projects which show the most potential to remove barriers and increase access to quality services. Each team has 20-25 projects to choose from as a starting point.
[E] ENGAGEMENT: Community engagement is a vital part of the initiative process, securing buy-in from local residents and elected officials for working to ensure vital services.
[F] RESULTS: Our focus is on the results in our measurable process. We can evaluate if our projects are increasing access to service, as well as improving services in all ten sectors.
[G] OUTCOMES: We work to achieve our vision and goal of 100% of families having access to the vital services, and with it increased health, safety, resilience, school achievement, job readiness and employment.
THE SOCIAL ECOLOGICAL MODEL
Our initiative is also guided by the social-ecological model. It is a framework that can guide local initiatives if they have a solid economic foundation from which to work.
The socio-ecological model (SEM) was first introduced as a conceptual model for understanding human development and was developed and formalized as a theory by psychologist Urie Bronfenbrenner in the 1970s and 1980s. The use of the term "social-ecological system" (SES) in scientific literature has grown. This model illustrates how behaviors form based on characteristics of individuals, communities, cities, states, nations and levels in between. In examining how these "levels" interact, community health advocates can develop strategies to promote well-being and ensure vital services with a comprehensive plan that acknowledges the role of the individual, family relationships, community relationships and political agents within larger political systems.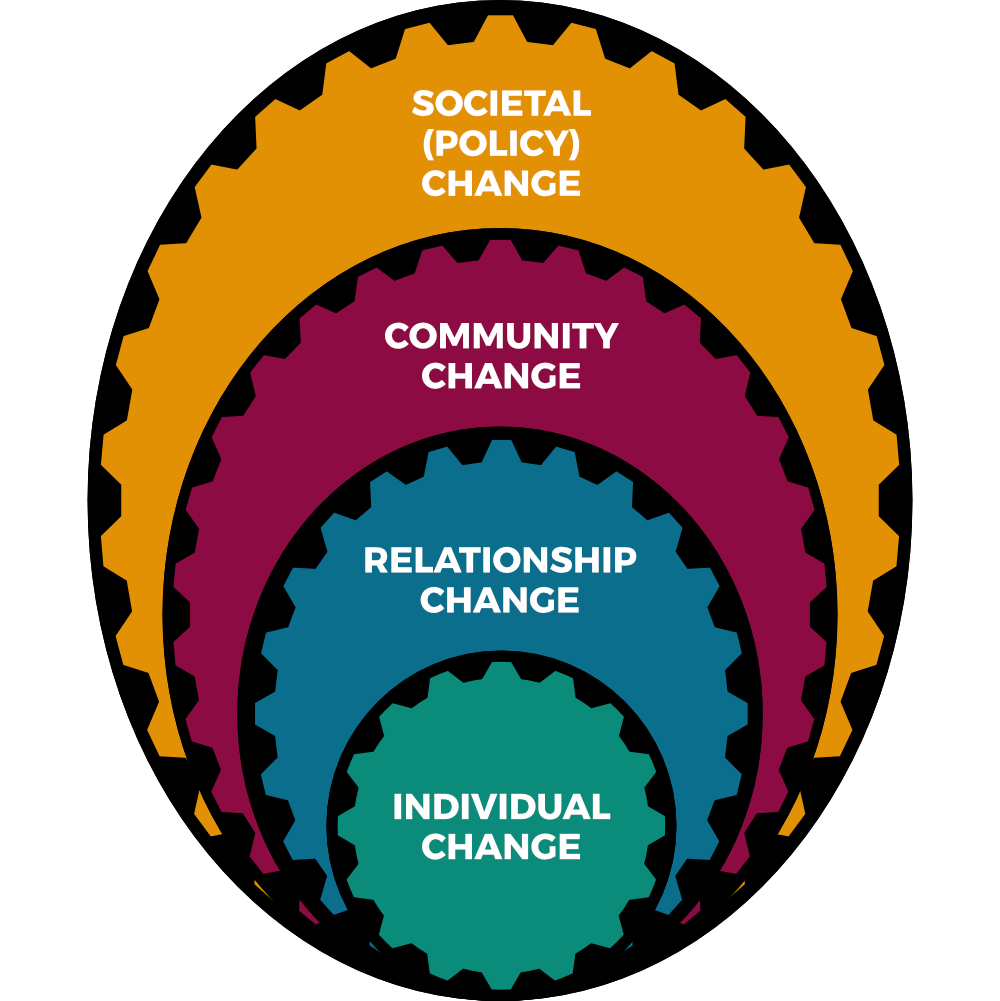 PROMOTING PUBLIC AWARENESS
Our project is focused on engaging all county residents through public education, training and events. Our mural projects engage the public and invite participation in the initiative. Our 100% Mural Project can bring together local stakeholders, county and city officials, state lawmakers and our congressional representatives to share a united vision of ensuring the vital services that create the health of all county residents.